The FAA's Technical Center started as a collection of WW2-era temporary buildings and grew into the world's largest and most advanced aviation research laboratory

The Federal Aviation Administration's William J. Hughes Technical Center at Atlantic City International Airport has been designing, testing and supporting new ways of controlling and managing air traffic for more than six decades.
Those decades have seen aviation breakthroughs in air traffic control and management as well as in crash and fire safety, energy-absorbing runway overruns, aircraft structures, pavement design, weather sensors, the hazard of lightning strikes on aircraft and other areas.
The Technical Center's contributions to air traffic management are continuing in the modern, digital age. Satellite communications, navigation and surveillance now complement the ground based systems. Pilots, controllers, dispatchers as well as airport and airline managers are digitally connected in ways almost unimaginable sixty years ago. The Technical Center's cybersecurity laboratory is working constantly to protect the info-centric systems that continue to increase in importance for air traffic controllers.
The Center is also helping to develop and test Unmanned Aircraft Systems (UAS) and Advanced Air Mobility (AAM) traffic management concepts and technologies. This effort is preparing the USA's National Airspace System (NAS) for air taxis, small-package delivery drones, air cargo logistics drones, autonomous aircraft and commercial space transportation among other novel air transport operations. At present, there is more innovation and investment advancing aviation than any time since the Wright Brothers first flight in 1903.
The beginning
The Technical Center outside Atlantic City can trace its origins back to 1958 when the Federal Aviation Agency (FAA) was formed by President Dwight D. Eisenhower.
Eisenhower picked Pete Quesada, a retired US Air Force lieutenant general, as the first FAA administrator and the fledgling FAA needed a place to conduct field-testing and experimentation. The newly formed FAA obtained ownership of a former naval air station for US $55,000 from Atlantic City. Naval Air Station Atlantic City (NASAC) at Pomona, New Jersey, had been active during World War II and the Korean War. Several key aviation technologies were developed at NASAC and programs there helped the US Navy transition to jet fighter aircraft.
The 5,000 acre site hosted 180 temporary structures built for World War II that leaked, lacked temperature control and were unsuitable for research activities. The FAA would pay to maintain the runways, but Atlantic City was still allowed to use them for commercial airline service.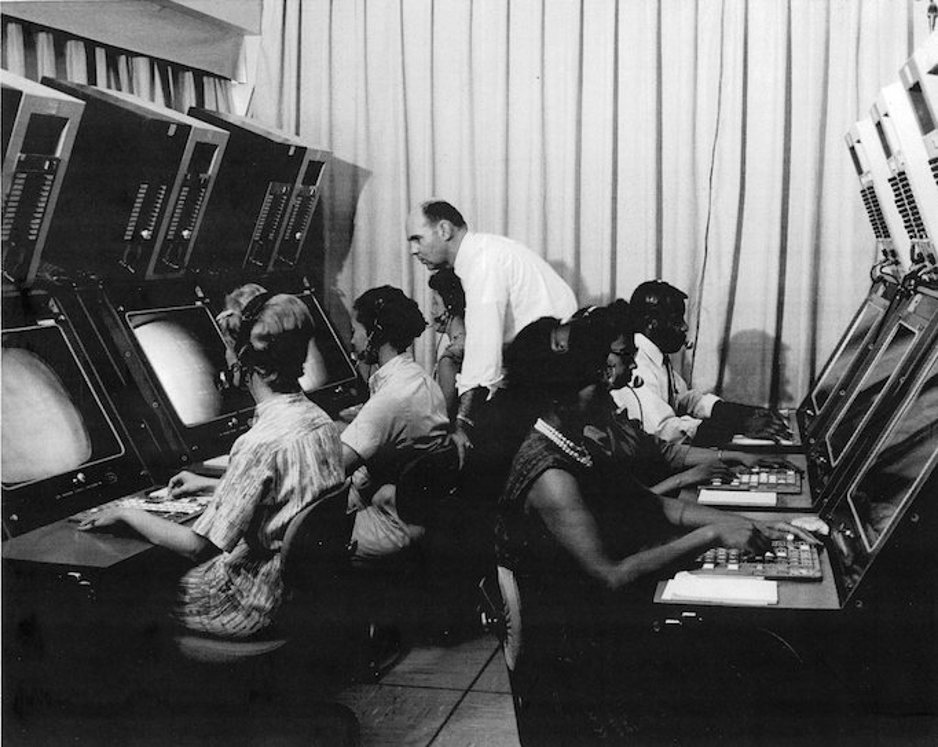 These humble beginnings did not point toward the state-of-the-art laboratory complex the FAA would eventually build at Atlantic City to sustain the NAS. Today, the Tech Center is the most capable air traffic control and air traffic management research, development, test and evaluation (RDT&E) facility in the world.
Early research
The first research programs at the Tech Center looked at several areas, from radar beacons to high-speed communications, as well as airport design and Instrument Flight Rules (IFR) operations in the Los Angeles, California area.
From its inception in 1958, the Tech Center has been involved in the development and testing of all technical improvements in the NAS. It is the only large-scale national laboratory in the world dedicated to technical improvements in airspace control and management, along with a variety of other aviation safety disciplines.
The Center led the world in a variety of early efforts including: the automation of air traffic control in the early 1960s, helicopter wake vortex turbulence testing in 1963, testing of an automated en route air traffic control system in 1966, introduction of the Visual Approach Slope indicator in 1966, and the first ATC tower cab mockup for testing controller work areas and to conduct airport observations in 1972.
A keystone in early research efforts was the creation of an ATC simulation laboratory. A 1966 IEEE paper by Thomas S. Wonnell of NAFEC outlines the Center's capabilities: "Currently at NAFEC, this system combines analog and digital-simulated radar target generation techniques to provide the most comprehensive air traffic control simulation laboratory in the world."
Construction and expansion
In a short history of the Technical Center, FAA historian Dr. Terry Kraus notes that Najeeb E. Halaby, FAA administrator between 1961 and 1965 set in motion a three phase building plan to modernize NAFEC. A US Navy test pilot, Hallaby helped organize the service's first test pilot school and flew and evaluated the first US military jet, the Bell P-59. He campaigned for John F. Kennedy who after he became president, appointed Hallaby as FAA administrator.
Hallaby's modernization program replaced some of the deteriorating temporary buildings at NAFEC. However, after the first phase of construction in 1968 added a modern aircraft maintenance facility, a crash/fire station and a central utility plant, the project stalled.
By 1973, NAFEC had become expensive to operate because dilapidated facilities made the site obsolete and unworkable. The FAA considered moving NAFEC to its training and technical facility in Oklahoma City as a cost-saving measure.
The possible relocation drew the attention of the Atlantic City mayor and New Jersey state politicians, including freshman Congressman William J. Hughes (D-NJ). They set up a committee to save NAFEC and went to work. A local civic group joined the cause. The Atlantic County Improvement Authority played a key role in securing Wall Street financing from a top-tier bank and a major insurance company for a new NAFEC headquarters building to house modern ATC laboratories.
Once financing was secured, President Jimmy Carter visited NAFEC on September 20, 1978 to break ground on the new US$50 million Technical and Administrative Headquarters. It took two years to construct what is still the largest laboratory complex building at the Center as well as its headquarters. Building 300 has 516,000ft2 [47,937 m2] of lab and office space. It was dedicated in 1980 to Chuck Yeager, the first pilot to break the sound barrier, Vice President Walter Mondale and FAA Administrator Langhorne Bond. Later in 1980, a new heliport was added and the Center was renamed the FAA Technical Center.
By the 1980s, the scope of aviation research had broadened with 150 projects active at any one time as the Center's role became more important for NAS testing and systems integration. ATC radar systems, NEXRAD weather radar, improved landing systems and other new equipment, procedures, and operational concepts were tested at the Center. A human factors laboratory was added, along with aircraft and tower simulation laboratories. As the 1980s gave way to the 1990s, the Center led the way in modernizing how traffic was to be handled in en route, in terminals and over oceanic airspace.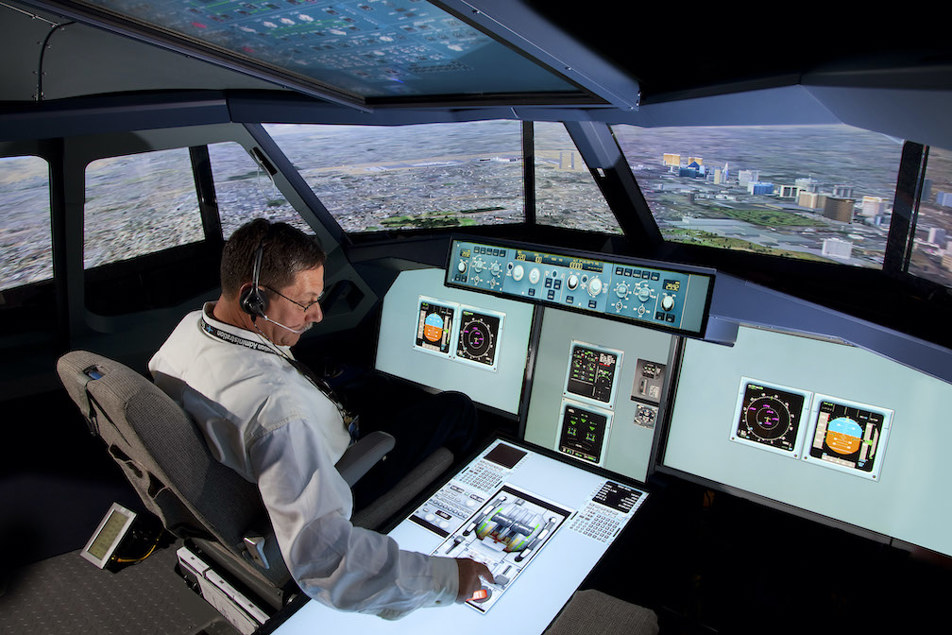 Gathering Strength
In 1992, an aviation security laboratory was added. This laboratory was later transferred to the US Department of Homeland Security, which was created the year after the terrorist attack on the World Trade Center and Pentagon on September 11, 2001. The laboratory examines the threat of improvised explosive devices on aircraft. The Department of Homeland Security also trains federal air marshals at a facility on the Technical Center campus.
On May 6, 1996, the Center was renamed again, this time as the William J. Hughes Technical Center. Guy Gardner, who was the director of the Center at the time, said Hughes had been instrumental in its growth and success during his 20 years in Congress starting in 1975. Hughes marshalled the support to expand and modernize it with the new headquarters building, technical support facility, advanced automation systems laboratory and aviation security laboratory. The Center also serves as home base for other federal and state aviation related organizations. These partners help create a collaborative, aviation centered campus that provides an operational environment in which to explore future aviation concepts.
Modern R&D
In the modern era, the Technical Center is tackling new RDT&E challenges. These challenges are arising as a result of the always on, always connected NAS which is established on digital data exchange and software-based capabilities.
"Advancements through 2030 and beyond will rely heavily on integrating new capabilities rather than implementing independent new systems," says director of the FAA Technical Center Shelley Yak.
"The success in testing and deployment of the integrated and connected National Airspace System in recent years show the Technical Center is ready to support this path to the future of the NAS."
The Technical Center supports the entire system life cycle from concept development and validation through system engineering, acquisition, deployment and operational sustainment.
The Center worked on RDT&E for Automatic Dependent Surveillance Broadcast, En Route Automation Modernization (ERAM), Data Communications, Terminal Automation Modernization and Replacement (TAMR), Traffic Flow Management System (TFMS), Time Based Flow Management (TBFM) and Terminal Flight Data Manager (TFDM). All these systems were tested and began their nationwide deployment at the Technical Center through its engineering, testing, evaluation and deployment platforms.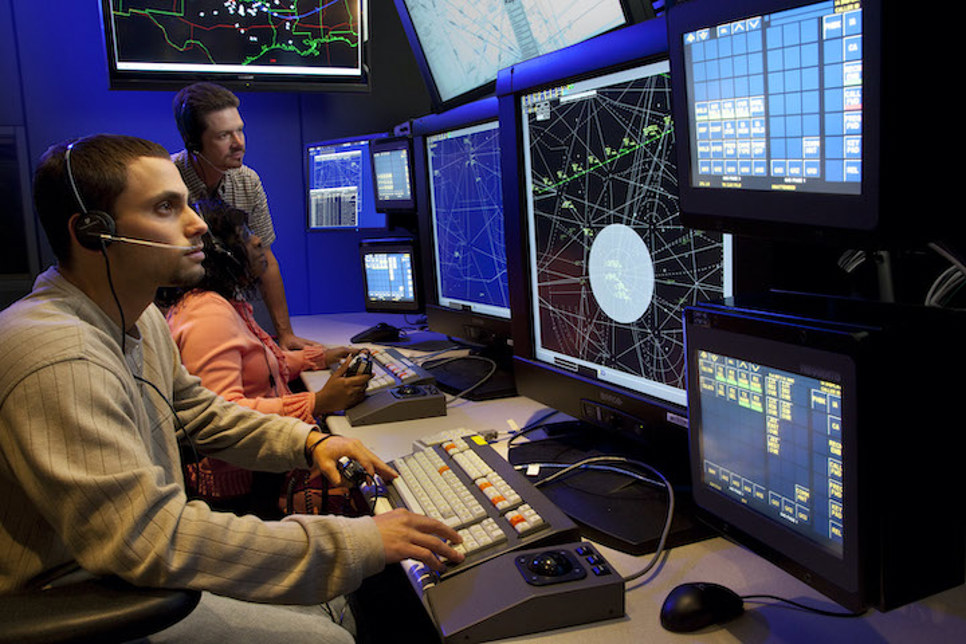 The Center's ability to research, integrate and test capabilities that span multiple elements of the US airspace system enables the organization to address complex systems operational integration challenges brought forth by modernization efforts such as NextGen, FAA's multibillion-dollar infrastructure and modernization program. As the Center continues to support the operationalization of NextGen, it is well positioned for positively affecting the future of the Info-Centric NAS.
The Center's NAS laboratory facilities enable a high fidelity replication of deployed operational system configurations to integrate and test system upgrades with high confidence that test results will reflect real world conditions. The Tech Center in essence houses a digital copy of the NAS under one roof.
This enabling environment also provides the infrastructure and connectivity necessary via a distributed live virtual constructive environment (LVCE) to validate concepts and future technologies at various levels of fidelity. This supports the development and maturation of requirements. The Center also leverages partner assets via its distributed network by connecting with partner laboratories, using flight simulators located at FAA's Mike Monroney Aeronautical Center in Oklahoma City and, for example, interfacing with Boeing's flight test aircraft.
"A virtual cooperative environment is important for researching, testing and evaluating capabilities that will create and sustain the data-driven, info-centric NAS," Yak says. "In this era, we have to focus on the interoperability and security of connected systems and not just the performance of each individual system in isolation."
Yak rose through the ranks at the Technical Center to become its director following roles as division manager in IT, operations and finally as deputy director.
Developing new concepts and emerging technologies
As the NAS continues to evolve, the Tech Center is improving its capabilities to focus on the future by enhancing its connected environment of robust laboratory systems.
The suite of integrated LVCE, representative of current and future NAS systems at various levels of fidelity, is a key enabler for RDT&E. The term RDT&E refers to those activities that begin in the research phase of the FAA's Acquisition Management System and carry through to the production side of the life cycle. As the NAS evolves there is an increasing need for integrated RDT&E activities executed at the enterprise level. This is driving FAA investments in the enabling LVCE to evaluate system architectures, concepts and technologies for future implementation.
The FAA is accommodating new entrants of the NAS, including unmanned aircraft systems (UAS) and commercial space operations. One example where new concepts of operations and tools are being tested for these applications at the Center is the NextGen Integration and Evaluation Capability (NIEC) laboratory. Established in 2009, the NIEC has been instrumental in evaluating advanced aviation concepts and emerging technologies.
NIEC has a modular setup that includes a tower simulation area with a 300? screen for the view from the tower; an air traffic control suite with consoles that behave like ERAM and Standard Terminal Automation Replacement System control stations; a cockpit simulator and a multipurpose area that can be used to display weather or traffic management data and can simulate an airline operations center.
NIEC leverages existing NAS operational systems and high-fidelity, real-time simulation capabilities to create an integrated, flexible and reconfigurable environment. Such an environment can be tailored for NextGen research as well as test and evaluation. NIEC provides a futuristic NextGen gate-to-gate visualization environment with advanced data collection capabilities to support integration and evaluation of new technologies and concepts.
NIEC's capability to evaluate new technology, capabilities and procedures operating along legacy systems has supported the transition to NextGen and is paving the way for progress towards Trajectory Based Operations (TBO) and the Info-Centric NAS.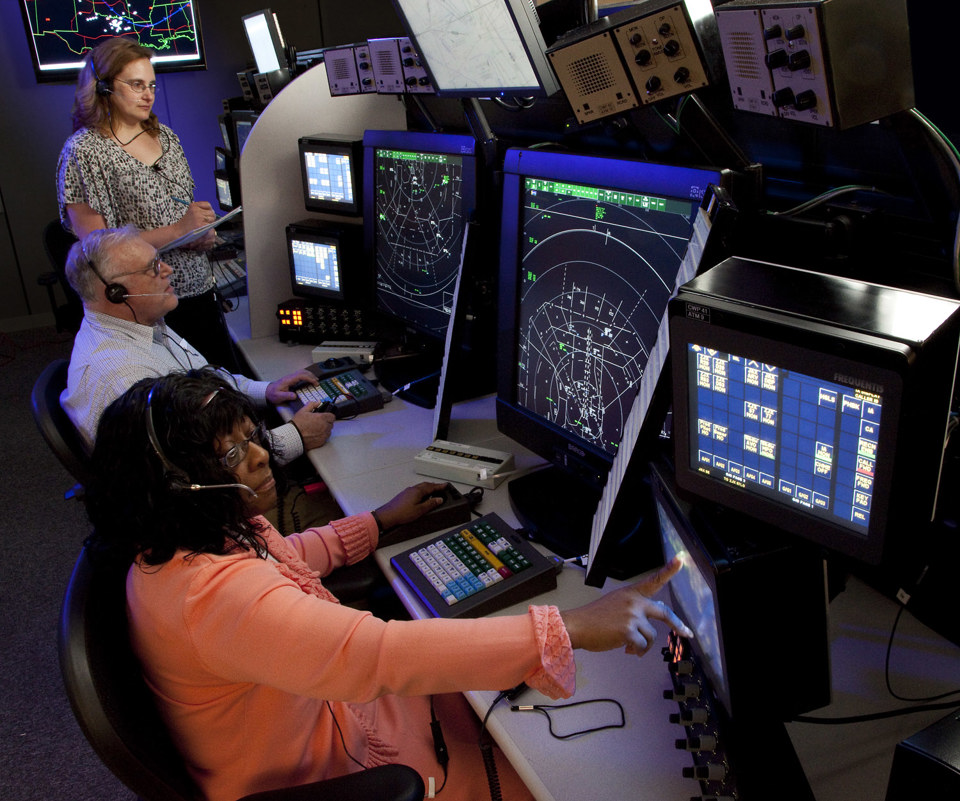 The FAA is moving towards implementing trajectory-based operations as outlined on an FAA web page titled Trajectory Based Operations (TBO) – FAA. TBO shifts air traffic control and management from a miles-in-trail to a time-based management scheme. A schedule for every aircraft's arrival at a series of points en route will be worked out in advance to create the initial trajectory for the aircraft from takeoff to landing. Automated cockpits and ATC systems will enable pilots and controllers to update trajectory parameters on the fly to maximize the efficient use of airspace while the aircraft is en route. Performance based navigation will enable aircraft to arrive at key points at precisely the expected time.
The Tech Center is preparing for this new era by enhancing its highly distributed and integrated lab to ensure it is ready to support the evolution to TBO. The TBO Integrated Test Environment (TITE) was established to leverage existing NAS air-and-ground laboratory systems, assets and capabilities. This is a collaborative effort with aviation partners to integrate NAS air-and-ground systems with hardware and software prototypes and networks to systematically evaluate TBO at the enterprise level.
The FAA wants to make the RDT&E process more interactive. With an entire enterprise involved in delivering a new capability, risk reduction cannot wait for R&D to move on to a later test and evaluation stage before changes are made. At that late stage changes are more expensive and time-consuming. Yak has been building cross-organizational teams to tackle this issue using a shift left approach for continuous testing and modifications as needed early in the game.
TBO Live Flight Test Experiment
An example of ensuring the readiness of the laboratory environment to support TBO was demonstrated during a TITE Live Flight Test (LiFT) in 2019. The Center, MIT's International Center for Air Transportation (MITRE), and The Boeing Company formed a public/private partnership under a cooperative research and development agreement (CRDA). Together they developed a joint FAA-Boeing air-to-ground laboratory capability as part of the TITE. The environment spanned multiple FAA and Boeing laboratories covering the Air Traffic Management (ATM) domain, digital communications infrastructure, aircraft avionics benches, simulated airline operations center tools, as well as the Technonlogy Center's Target Generator Facility simulation capabilities.
This flight test was conducted with Boeing using the company's 777-200 ecoDemonstrator aircraft. The flight test involved a team of more than 100 aviation professionals in government and private sectors. The flight tests were focused on the RDT&E capabilities that the FAA and its partners require to accelerate the operational use of TBO concepts.
Advanced Air Mobility
Capitalizing on this successful LiFT demonstration, the Center has formed an integrated team to focus on continuous evolution of the TITE. This team is addressing future laboratory requirements and needs of emerging operational concepts and technologies such as AAM.
AAM is a NASA, FAA and industry initiative that aims to develop an advanced air transportation system that moves people and cargo between local, regional, intraregional, and urban locations previously not served or underserved by aviation. This transportation system will use revolutionary technology such as eVTOL aircraft. Urban Air Mobility (UAM), as a subset of AAM, looks at advanced air transport specifically in an urban environment which presents unique challenges for these types of operations.
The Center has formed a partnership with NASA Langley Research Center (LaRC) to leverage the TITE framework to develop RDT&E capabilities using Center and LaRC assets and tools. These capabilities will be used to evaluate AAM using the AAM Atlantic City International Airport Ecosystem use case. Together the labs are part of the LVCE environment, providing researchers with the potential capability of flying AAM aircraft in both real and simulated airspace.
AAM includes passenger air taxis in urban areas, cargo drones and autonomous aircraft, such as Cessna Caravans, proposed for cargo missions without pilots aboard. The FAA is preparing to accommodate these novel air vehicles with a crawl, walk, run strategy.
The crawl phase will involve the RDT&E of near-term AAM concepts alone and in collaboration with other partners. The walk phase will validate and accredit the LVCE in Atlantic City for AAM testing. Urban operations, microscale wind and turbulence conditions will be added with the assistance of MITRE. During the run phase, laboratory capabilities will support wide ranging RDT&E in the AAM ecosystem, including the validation of any new operational concepts as well as airspace procedures.
Achieving the info-centric NAS
In order to perfect modern research and test programs, the Center is investigating tools and techniques such as cloud computing, artificial intelligence/machine learning, data science, scalable virtual systems and a NAS digital twin. Augmenting these with the existing Tech Center LVCE, provides the needed capability for RDT&E of the future NAS vision.
The LVCE enabling environment continues to evolve to support RDT&E of future concepts and technologies. It is a key enabler to adequately verify and validate systems and new operational capabilities for inclusion in the ever-evolving NAS.
The days of the barnstormers and air racers in the 1920s and '30s were an era when innovation in piston-powered aviation experienced an accelerating rate of change and improvement. Atlantic City saw some of those air demonstrations of technology that later fueled the evolution of piston fighter aircraft and later the first jets, including those flown at its naval air station.
Today, the FAA Technical Center is faced with a NAS that is undergoing rapid change because of novel aircraft and new operational concepts. The Tech Center is helping the FAA find ways to accommodate both traditional and new aircraft in the NAS, an effort that is expected to continue for decades to come.
The comment below was made shortly before the FAA Technical Center opened its doors in 1958 and may be a harbinger of what's to come during the 2020s and beyond.
"We are coming into a new era of flight, an era in which all past conception of time and distance is changing – and changing at a very, very rapid rate," Allan Lockheed, founder of Lockheed Aircraft, 1953.